This is a false Capture circuit or Lie detector Circuit. The basic principle of the resistance of human skin. While dry skin is a resistance about 1Mega ohm but if the skin moisture resistance is reduced. When the body are excited or scared or not sure the skin is moist than usual
Read More...
DEW SENSITIVE SWITCH WITH OPTO-COUPLER:
Here is a simple circuit that can be used to switch ON or OFF a device when the dew present in the surrounding atmosphere crosses a set value.The circuit uses a dew sensitive resistive element and a comparator based on LM 358 to perform the above said operation.
Read More...
BATTERY TESTER FOR DEAF AND BLIND PERSONS:
Many blind and deaf-blind persons use portable electronic devices to assist their everyday lives but it is difficult for them to test the batteries used in this equipment. Talking voltmeters are available but there is no equivalent usable by deaf-blind persons. This battery tester uses vibration and a user-settable control to enable blind and deaf-blind persons to test both ordinary and rechargeable AAA, AA, C, and D cells and 9V batteries. For ease of use and maintenance the device is powered by the battery under test.
Read More...
SOIL DRY TESTER:
This Check this dry soil circuit For the Blind. Because it will alert on clay. Circuit has less detail. It production the low frequency pulse, the IC CMOS 4001. is primary device,internal structure consists of NOR Gate.When added to RC circuit will be on low frequency oscillator.
Read More...
PUMP CONTROLLER FOR SOLAR HOT WATER SYSTEM: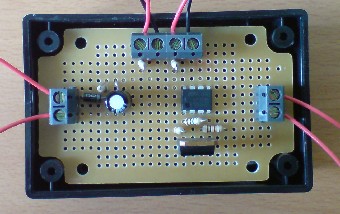 This circuit optimises the operation of a solar hot water system. When the water in the solar collector is hotter than the storage tank, the pump runs. The circuit comprises two LM335Z temperature sensors, a comparator and Mosfet. Sensor 1 connects to the solar collector panel while Sensor 2 connects to the hot water panel. Each sensor includes a trimpot to allow adjustment of the output level. In practice, VR1 and VR2 are adjusted so that both Sensor 1 and Sensor 2 have the same output voltage when they are at the same temperature. The Sensor outputs are monitored using comparator IC1.
Read More...
BURGLAR ALARM:
This circuit uses IC 556 which have timer 2 the group in one. First group is moto stable and second group does in front is in a state of a signal goes out work to is unfinished although signal. From detect disappear already. But output a pin 9 still have voltage the tall when encourage from detect , which might be switch the door is model usual close the circuit, or be strip sticks at sheet window glass by detect every jigsaw serial puzzle all.
Read More...